Walleye Fishing Guides
Columbia River Fishing Adventures are year-round walleye fishing guides offering guided walleye fishing trips in the Portland area as well as the Columbia River gorge. Many people have no idea that Walleye are among the best eating fish the northwest has to offer! Not only are they tasty these aggressive bitters are fun to catch. As a long-time fishing guide, I can honestly say there's no fish I'd rather eat than walleye. Even better, we live in the heart of it all and catch and eat these delicious fish all the time and have been helping our clients do the same for years.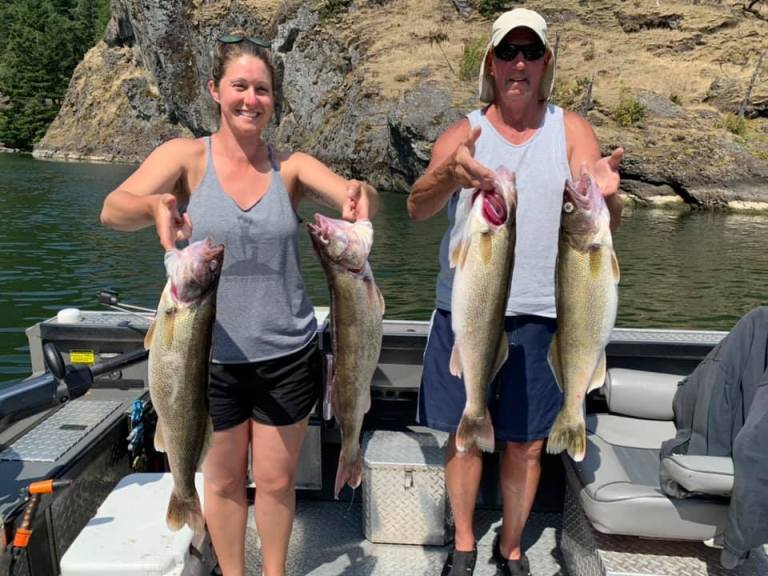 State record Walleye
In the Pacific Northwest the Columbia River is the number one walleye fishing spot in the region with healthy populations throughout the river system. The Columbia is not only known for the amount of walleye available, it's also host to the largest walleye in the Pacific Northwest. The Washington state record walleye was caught right here on the Columbia and the second largest walleye ever caught in Oregon as well. The state record walleye for Oregon was actually caught on the Umpqua river which should be no surprise is a tributary of the Columbia. This means that the Columbia offers one of the richest bounties of walleye to be had.
Walleye Fishing Trips
Our Columbia River Fishing Adventures guided walleye fishing trips are fun for the whole family and since we've been doing it for so long, we know exactly where to catch them. Best of all we'll help you fill your freezer with tons of the tastiest fish you'll ever eat, it's just a matter of reserving your seat on one of our walleye fishing boats for the fishing adventure of a lifetime. Granted the number one attraction to the Columbia is the excellent runs of both spring and fall Pacific Northwest salmon. However, when the salmon seasons starts to get slow, we like to switch it up and go after the filet mignon of the freshwater and our favorite fish to eat the Columbia River walleye. Yes, we fish for walleye all year long and just can't get enough of them. If you were to join us on a walleye fishing trip, I'm sure you'd agree walleye are well worth the effort and are hard to beat at the dinner table.
Walleye Fishing Limits
Both Washington and Oregon allow virtually no limits on walleye. This means that you can literally keep as many fish as you can possibly catch. It's not uncommon where we have days when we've put well over fifty fish in the boat. granted loading up like that doesn't happen all the time, we can still put a whole bunch of fish in the boat. Keep in mind walleye are aggressive bitters. Basically, they will pretty much hit anything they can find dithering in the slack water. This makes for some easy fishing as the boat is pretty easy to manage in the slow flowing waters such as this.
Where to catch Walleye
Given we are based out of Portland, we like to target walleye in various sections of the Columbia all the way from our hometown of Portland up to the McNary in the John Day pool. Form the Willamette to the Bonneville there several excellent walleye fishing spots we like to focus on in the lower. However, we also work our way up river to fish the areas around the Dalles dam and in the Columbia River Gorge. All these are excellent spots to target walleye.
Keep in mind, walleye like to hang out under shelves in deep shady waters where they can ambush prey and avoid predictors. These fish have excellent low light vision and are very proficient feeders.  We like to target them in the eddies, tail outs and culverts where walleye tend to stack up.
Effective Methods for catching Walleye
When it comes to catching walleye it's all about the power troll.  Power trolling is a technique where we let out a lot of line and then imitate the movements of wounded bait fish by quickly reeling in the line while making several jerking motions. When trolling the big water in larger rivers we like to fish in a zig-zag pattern which allows us to cover as much water as possible. This is especially effective when fishing areas with there lots of walleye are staged in large numbers like during the spring when they spawn.
Lure Colors for catching Walleye
When fish for walleye in clear water conditions, we like to fish lures that are more natural, comparable to the various bait fish that live in the local waters of the Columbia. For example lures in blues, silver, whites, and black are all similar to various bait fish like shad, herring, smelt, and so on. Also, when fishing in murky water conditions, we go with the brighter colors like chartreuse, yellow, orange, and red. Since these particular colors are more visible, they tend to be effective in water that offers poor visibility. Another technique is that we troll our gear as close to the bottom and possible. The key is to get your bait down low without getting snagged up. We generally start out at about 20 ft. deep. and work our way down depending on what the fish finder is telling us. Once you get the gear down deep just off the bottom where the fish are, its game on or more appropriately fish on!
Best time to fish for Walleye
Walleye feed primarily during low light conditions like just around sunset or sunup. This is when they tend to hang out in the shallow areas of the Columbia and are probably the easiest to catch. Targeting walleye during this time is perfect for keeping the trip alive after successfully catching limits of salmon.  Remember a day trip is 8 hrs. we suggest to use your time wisely and get the most from your trip. Fishing double species is common when fishing with Columbia River Fishing Adventures and our clients love it as well. Also you might want to try fishing for walleye near the shore at night. This is when they are looking to catch some easy prey hiding out in the weeds feasting on bait fish. As far as seasons, walleye are fishable all year long. They'll even feed in the debt of winter when the river is covered with ice or the middle of summer when the columbia River reaches a bit warmer temperatures. Rest assured, if you go on a guided walleye fishing trip with us, no matter what time of the season, winter, spring, or fall you'll experience the thrill of catching these wonderful fish.
Book a Walleye Trip
Book your trip today! Bring the family and enjoy the fishing trip of a lifetime with Columbia River Fishing adventures. join us on one of our guided walleye fishing trips and experience the joy of catching and eating one of the best tasting freshwater fish in the Pacific Northwest. Give us a call at 503-490-3099 and book your trip today. We'll do our best to provide you and your party the fishing trip of a lifetime. Columbia River Fishing Adventures Walleye Fishing Guides for over 30 years.